Ring Multiple Phones
---
With Anveo Call Flow, you can transfer an incoming call to all of your phones at once and get many great features such as call recording as well as the ability to take a call from your one phone and later switch the call to your another phone -- all without interrupting the flow of conversation.
How Anveo Can Help / Business Case Example

Situation: You need to be able to take your calls regardless of where you are, despite the fact that your cell phone may not be in service and your home phone is not an option.
Solution: Easily configure your Anveo phone number to route incoming calls to all phone numbers where you're likely to be.

Call Recording on Demand
With the push of a phone button, you can begin recording your calls mid-conversation. Save, organize and manage your recorded calls for easy online retrieval and forwarding.
Customized Audio Call Announcement
Anveo gives you lots of flexibility for on-the-spot decision making as to how to handle your calls. You can customize what you'll hear when you pick up a call routed to you by Anveo. Create your own call announcements to inform you the nature of the call so you can make informed decisions whether to engage in conversation or to utilize one of your own pre-configured call handling options. (MULTI FLOW) Call announcement could be your custom pre-recorded audio message or a text message (using Anveo's text-to-speech technology) or both!
Flexible CallerID options
When a call is placed to you through Anveo, you can select the CallerID number you would like to see - original caller's number, Anveo transfer number or even a custom number that helps you to identify the type of call and/or caller.
Secured Calls
Decide who can answer a call! Want to prevent your teenager from answering a business call or your boss from answering a recruiter's call? Anveo gives you the flexibility to require the person who picks up the phone to enter a security PIN code before the conversation can begin.
Multi Flow/Call Switch
Reroute calls during conversation or even before conversation begins. Using Anveo Call Flow, easily configure your calls so they can be rerouted to one phone, many phones, voicemail and more - all at the press of your phone keypad button. Easy as 1-2-3! Initiate Anveo Multi Flow by pressing 1, 2 or 3 or transfer a call mid-conversation by pressing *1,*2 or *3.
How Anveo Can Help / Business Case Example

Situation: You have a full-time day job and a side business. You need the flexibility to take your business calls on your cell phone without compromising your day job.
Solution: 1. Have side business calls automatically routed from your Anveo phone number to your cell phone. You can safely pick up these calls because you won't be immediately connected to the caller.
2. Instead, you create what you want to hear when you pick up the call, e.g. "This is my XYZ business call."
3. Visually configure your options for handling the call. For example:
- Press 0 to take the call.
- Press 1 to route the call to your business partner.
- Press 2 to ask the caller if they wish to receive a call-back and automatically send yourself a reminder email or IM that includes the call-back number.
- Press 3 to transfer the caller to Voice Mail and automatically receive an email copy of your voice message.

Extension Based Transfers
Divide and conquer your call handling needs. Set up your calls to use Anveo's flexible extensions features, transferring your calls to departments. Each of those departments can create their own customized call flows.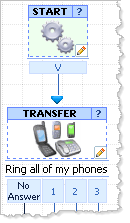 Flexible Options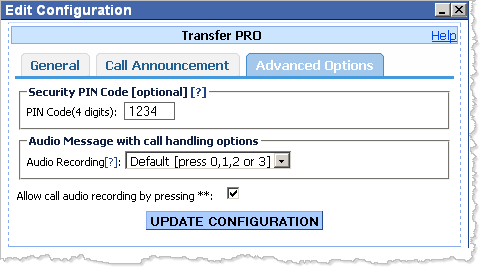 ---

Multi Flow - when you get a call on your phone from Anveo Transfer Pro control you can
press 0 to take the call and start conversation or
press 1,2 or 3 - to send the caller back to Call Flow without starting the conversation.
Call Switch - when you are already talking to the caller you can transfer the caller back to Call Flow by pressing *1,*2 or *3
Transfer to an extension - if you have any extension configured you can transfer the call to an extension by pressing ## followed by entension number