---
Skip the expense of dedicated conference call providers. Use Anveo's powerful set of conference call options.
Flexible Option
Anveo offers several options to initiate a conference call:
Use your Anveo phone number.
Use the Anveo no pin dial out conference call solution to set up and dial out call participants.
Allow conference call participants to join the conference call from your website using an Anveo ContactMe button.
Anveo Phone Number
Make your Anveo phone number act like a dial-in conference call phone line. Get the functionality of external conference call providers at less expense. Visually configure your Anveo phone number's Call Flow to join callers into the conference call.
Anveo No Pin Dial Out Conference Call Solution
Convenient online interface to set up and manage conference calls.
Automated dial out of conference call participants worldwide
On-demand conference call recording with online access to recordings
Ability to schedule conference calls in advance
Online participants management - add individual participants or add an entire contact group before or even during the conference call

NEW

Real-time controls to Mute, Unmute and Drop any conference call participant during the conference.

NEW

Conference call participants can 'Raise Hand' and bring originator's attention to be unmuted.
Anveo ContactMe Buttons
Allow participants to join your conference calls from your website at the press of an Anveo ContactMe button.

---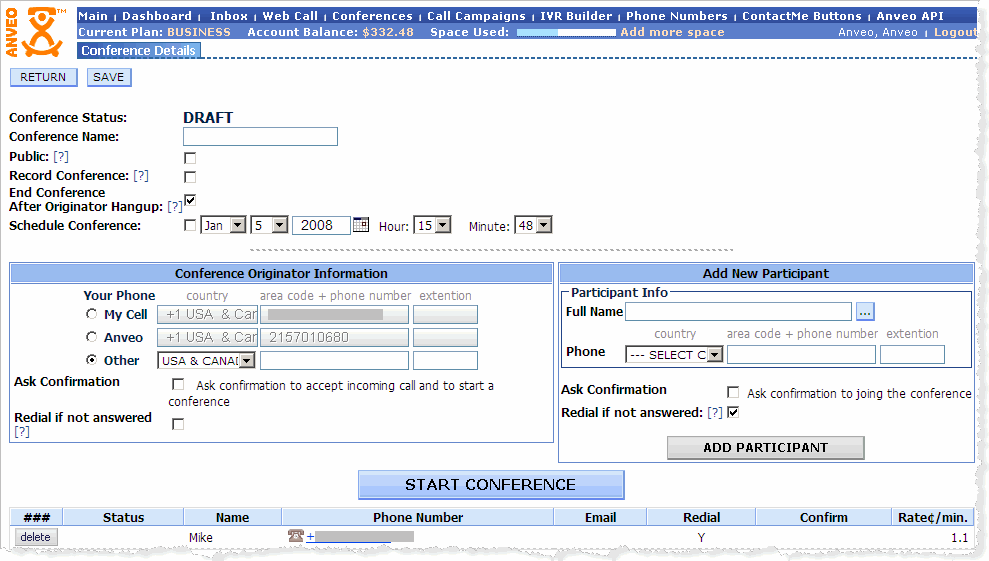 ---