IVR Call Flow SIP Trunking
---
SIP Trunking for your IVR Voice applications.
Send calls to your Anveo IVR Voice Application from any third party PBX or a system using Anveo IVR Call Flow SIP Trunking.
The power of Anveo Call Flow on demand
With Anveo SIP Trunking you can enjoy the power and flexibility of Anveo Call Flow whenever you need it.
Here is how it works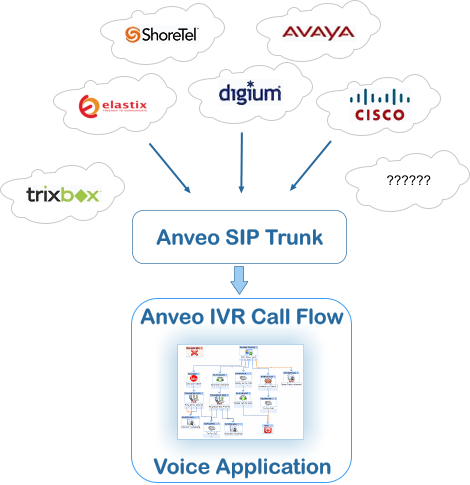 Simply create IVR Call Flow SIP Trunk and assosiate it with your Anveo IVR Call Flow! Now you can send calls to Anveo SIP URI provided and your Call Flow will process the call!
Unlimited Trunks
With Anveo you can create unlimited number of SIP Trunks and each can be empowered by a separate Call Flow.