'Local US Temperature' Anveo Voice Application example.
---
'Local US Temperature' Anveo Voice Application prompts a caller to enter a 5 digit US zip code. The application then queries a remote web server for the temperature information and reads it back to the caller.
This example shows some of the integration capabilities of the Anveo platform. To obtain the temperature we use the HTTP Call Control to query a remote web server by sending a zip code (call flow variable). The web server response contains the temperature which we store in Call Flow variable. The Robotalk Call Control is used to say the local temperature.
HTTP Call Control is a very flexible and powerful integration tool to perform data exchange between Anveo Voice Applications and your website in real-time.
Implementation time: less than 3 minutes (assuming that a web server is already configured to handle temperature requests).

Call Flow Screenshot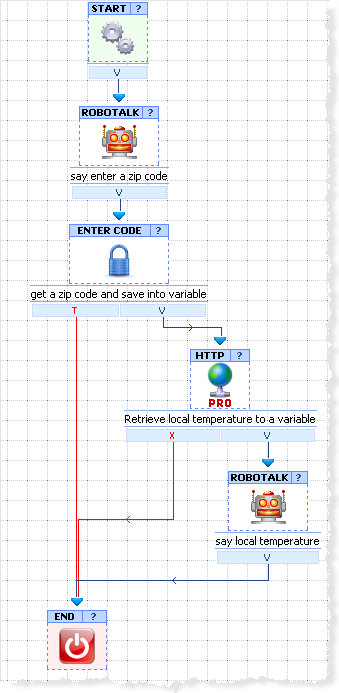 Call Control Configurations